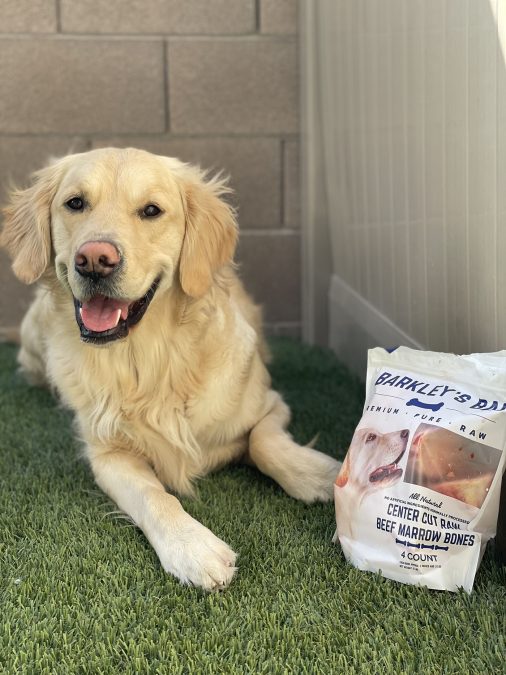 What breed is Jameson and does he have any nicknames? (@cashgoldenboy) Cash is a Golden Retriever. His nicknames are Mr. Baby, Crazy Head, and Smooch Boy.
What's a 'day in the life of Cash like?
Cash usually begins his day by nudging me to let me know he needs to go outside around 6 a.m. Then he is let out, fed breakfast upstairs in my room, and we are lazy and cuddle for an hour or so before heading downstairs. He spends a lot of his time playing, going on walks, running, and having many many many pictures of him taken. He also loves going hiking, out to eat with me, exploring the dog-friendly side of Las Vegas, playing with other dogs, being a foster brother to our foster family at A Path 4 Paws, and going on trips.
Where is Cash's favorite spot to enjoy a Barkley's Bag bone?
His favorite place to enjoy a Barkley's Bag bone is in his backyard with the sun shining on him.
What are some of Cash's favorite pup-friendly spots in Las Vegas?
Gold Mine Tavern is the most dog friendly bar he's ever been to. They allow him inside and always bring him water and give him lots of attention. He also loves shopping at Dog Supplies and eating at Lazy Dogs.
Who are some of your favorite Instagram dogs to follow?
If you could describe Jameson in 3 words what would they be?
Cuddly, loving, hyper